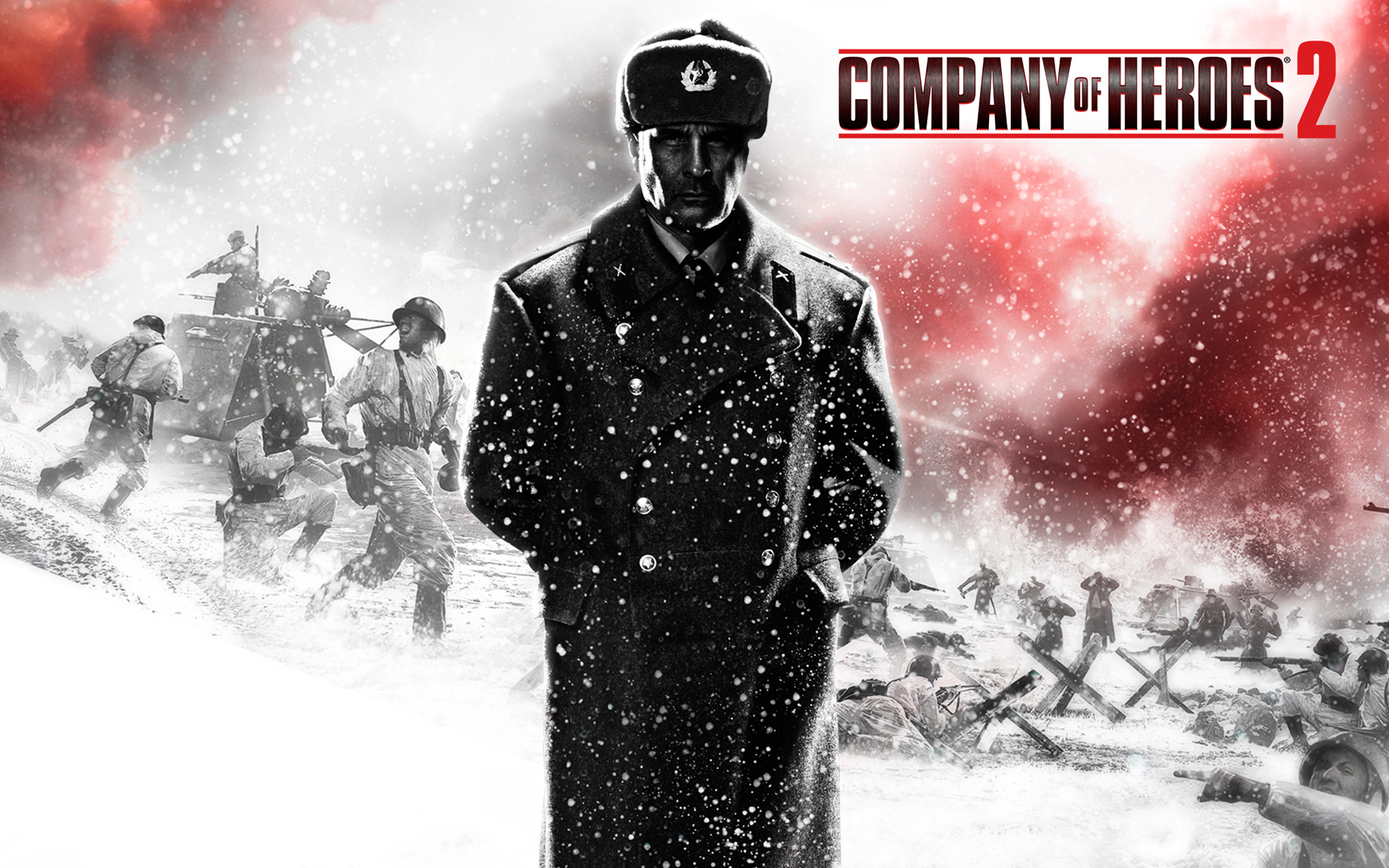 Genre: RTS
Release Date: June 25, 2013
Developer: Relic Entertainment
Publisher: Sega, THQ (previously)
Retail: $59.99
Platform: PC
It's been a tough journey for Company of Heroes 2. After the weak reception of Company of Heroes Online and the tragic death of Brian Wood, Relic Entertainment seemed to be fighting an uphill battle. The downfall of THQ only compounded the problem. Yet here we are, almost seven years after the original Company of Heroes released to critical acclaim. Listeners of our podcast know that we at Gather Your Party were quite relieved to see Sega step up and give the game a good home. If Sega's treatment of the Total War franchise is any indication, it's safe say that Relic and Company of Heroes are hardly down for the count.
In the often bleak, Starcraft-dominated world of real-time strategy, there are but a few bright spots. While we all excited to take a trip down memory lane when Age of Empires 2 HD was released a few months back, for the most part RTS games are on the decline. While there are still major Starcraft 1 and 2 tournaments, many players have moved on to greener pastures (mostly MOBAs and Civilization). It seems that RTS games are going the way of World War 2 titles. It's a shame too because it allows gems like Relic's Company of Heroes 2 to slip by with little fanfare.
Company of Heroes 2 places you in the freezing boots of lieutenant Lev Abramovich Isakovich and takes players from Germany's initial invasion of the Soviet Union all the way to Berlin. While the game is draped in some very charged historical imagery, this is by no means a documentary. Relic seemed far too preoccupied with some of the more negative portrayals of the Soviet war effort and the result is a Red Army that functions more like the Imperial Guard. The major arc of the story hinges on the unwavering cruelty of Russian high command which has become ridiculously overblown in the West. Stalin WAS a monster, but he didn't hold every single office of his high command. Even when you suspend your disbelief, the overall story of Company of Heroes 2 is a bit of a one-trick-pony. The Russians are given such a harsh treatment by the game's narrative that you sometimes forget who they were fighting.
That said, there are a lot of good elements of the game's campaign in terms of gameplay and presentation. Most of the missions utilize some set of special parameters so as to distance the gameplay from the various multiplayer modes. These range from varying objectives, the overblown Order 227 and non-base building scenarios. One particular mission (highly reminiscent of the 1988 film The Beast), involves a small group of soldiers forced to hunt down a Tiger I tank through a snowy village. Between the smarmy unit banter and the moments of sheer terror, the mission paints a very effective picture. Most of the campaign lacks the frenetic pace of multiplayer though as even on the hardest difficulty, most problems can be solved by throwing the right combination of units at the AI.
Outside of the singleplayer, Relic has done great work with presentation. The game is highly detailed both in the quality of its art assets and sound design. The voice acting and script, while not particularly accurate, deserve recognition for both their attention to detail and performance. Soldiers' responses change with the flow of battle; ranging from casually joking to each other to screaming for their lives and morbidly taunting their enemies. The vocal performances for both the Soviet and German units manage to capture both the cruelty and humanity of war, and as such it's sad that the game's campaign didn't take a hint from the previous entries in the series and provide a more apolitical view.
Aside from the game's stellar presentation, the multiplayer is undoubtedly the the strongest element of Company of Heroes 2. While the game shipped with two modes, Victory Point and Annihilation, it's rather obvious that the game is balanced around the former. This should come as no surprise to players of the first game and its expansions. Victory Point matches play similarly to the Domination game types found in other titles, requiring players to fight for control over three key points on the battlefield.
This style of gameplay fits very well with the emphasis on territory in Company of Heroes 2. Instead of requiring worker units to gather resources, players simply need to hold territory in order to secure a regular flow of fuel, munitions and manpower. Manpower is a generic resource required for nearly any action in the game. Since you start at the maximum level of manpower generation, unit creation draws not only from the manpower you have available but also from your ability to generate it. Securing territory can offset this maintenance cost though. Fuel is a general teching resource and is required for most buildings (except fortifications), upgrades, and vehicles. Munitions is generally used active unit abilities (grenades, mines, etc.) but can also be used to upgrade individual units with better equipment.
As in previous games, some points can provide bonuses to certain resources, but new to Company of Heroes 2 is the ability to fortify a point to provide a bonus to either fuel or munitions. From a mechanical perspective, this allows players greater flexibility in the mid game where teams typically start becoming entrenched in their positions. Generally speaking, any problem presented by the game can be solved indirectly through using any of the game's three resources though the efficacy of the solution can vary significantly. If an enemy secures an early lead in fuel and produces a tank, you can address the problem by upgrading infantry with AT weapons (munitions), constructing a field gun (manpower), or by holding out and producing a tank of your own (fuel). Each of these solutions have their own limitations and the game does a good job of always leaving you options. The ability to play from behind in Company of Heroes 2 is part of what makes Annihilation, where the goal is to destroy the enemy's base, generally unviable as a game mode.
The mechanical strength of Company of Heroes 2 is very much in line with Relic's previous titles. Veterans of the Dawn of War series will be no strangers to most of Company of Heroes' mechanics. Instead of giving players direct control over every single element on the battlefield, players give units orders that they'll follow for the most part. Infantry will naturally seek out cover in whatever position you order them to and will defend themselves if they come under attack. While infantry will never retreat on their own, they're not entirely helpless. Vehicles are controlled more directly as there is a huge emphasis on positioning. Most every vehicle is more vulnerable from the rear and new in Company of Heroes 2 is the ability to directly order a vehicle to reverse to a location.
Multiplayer matches are further complicated by blizzard conditions that cause intermittent snow storms. The reduced visibility and mobility during these storms causes the game to go from one of limited information to a game of virtually no information. Infantry must huddle by fires, hold up in buildings or vehicles, or risk freezing to death. For defenders it's an ideal time to bolster defenses but because of the limited visibility, a half-track of soldiers could easily seize the opportunity to take territory or prepare an ambush. Blizzards add a much needed means for players to play effectively from a disadvantage but they also breath even more life into the game world. Even with these considerations, the skill ceiling for Company of Heroes 2 is significantly lower than that of a game like Starcraft. The emphasis here is on long term strategy and higher level decision making and it allows the game to feel more approachable without necessarily dumbing it down.
The Theatre of War campaign is another new addition to the series that allows players to join up with friends to take on a series of coop scenario missions. These range anywhere from variations on Victory Point Control to cooperative versions of the singleplayer deathball missions. What sets Theatre of War apart is that the tech trees for each faction are limited in each scenario based on the year in which it takes place. It also provides a significantly greater challenge for players who may have been disappointed by the difficulty in the game's campaign.
Overall Company of Heroes 2 is an excellent game that suffers from being just a little too late on release. Though the original title was released to extensive praise, the era of RTS gaming is slowly but surely coming to a close. There are many great features in the game but sadly the community is already waning. As a primarily multiplayer title, this could very well be the kiss of death for the game. There are still matches to be found but depending on the time of day, you can expect anywhere from 30 seconds to 6 minutes before getting in a game. Were the singleplayer elements more robust or at least faithful to the Russian side of the war, this game would have been a classic. Though it moved quite a few units and it seems an expansion is inevitable, Relic has yet to deliver the same degree of innovation and presentation that we saw back in 2006.